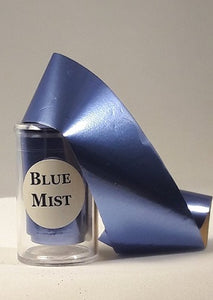 Blue Mist Nail Foil - Colour Plain deep blue - Size of roll 2.5cm x 150cm long
Nail Foils add an amazing dimension to your manicure. You can now add pattern, foil-like effects, and beauty to your favourite manicure.
Using these transfer foils can add just the right amount of GLAM, and they are easy to apply too. These beautiful foils add colour and texture, and you can create a unique look to your manicure.

There are lots of colour options, so choosing your perfect shade won't be a problem. Foils can provide instantly eye-catching results that will easily lift your manicure or pedicure to new heights and make your nails stand out in the crowd.

Nail foils measure 2.5cm x 150cm and will complete 140 natural nail coverings.

Directions for use

Prepare your nails by shaping, pushing cuticles back and ensuring nails are free from oils etc and perfectly clean.  (do this using professional nail prep eg CND Scrubfresh )
Paint your nails first, but do not apply top coat until you have applied your foil.
If using CND Vinylux Nail Polish, that doesn't require a base coat, so apply your two colour layers, allowing to dry between layers and then completely. Choose nail colour to match or enhance foils, as your nail colour may show through the foil.
Apply foil glue carefully to the nail, and wait till it turns clear. Foil Glue is a specialised glue that turns clear on your nails after a couple of minutes, then it is ready for foil to be applied.
Cut off a small piece of the foil a little bigger than your nail and then apply it, shiny side up, to the nail. Rub over the entire nail a few times using your finger, a sponge or a rubber hoof stick, then pull off the top film when complete.
Finish with top coat.
When you want to remove, you will find they remove easily with regular nail polish remover.