Vinylux Long Wear Nail Polish - get a whole week of fashion perfection!
CND Vinylux Long Wear Polish is the perfect nail polish to give yourself a professional-looking and hard-wearing Mani or Pedi.
Why you'll love Vinylux Long Wear Nail Polish:
180+ fashion colours
Perfect to use at home for a beautiful, high shine, quick-drying finish with no lamp needed.
7 day chip-resistant wear
Lasts 4x longer than traditional nail polish
Breathable formula that nurtures your natural nails
No base coat needed
Flawless finish & gel-like shine
Italian designed curve-hugging brush
7-free - free of toxins, 100% cruelty-free & vegan-friendly
Contains nurturing Keratin, Jojoba Oil & Vitamin E
Dries in just 8.5 minutes
Pair with a Vinylux Top Coat for a professional finish, with seven-day wear, chip-resistant colour and gel-Iike shine.
Image is "Cream Puff" in CND Vinylux Long Wear Nail Polish
Shop Vinylux Long Wear Polish from $16.95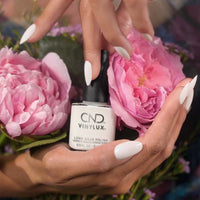 Award-Winning Vinylux Weekly Long Wear Top Coat
A brilliant high shine, long wear top coat with Pro-Light Technology. Provides the final step in the CND Vinylux 2-step system, and ensures 7 days of long lasting high shine when used with CND Vinylux Long Wear Polish.
Features Pro-Light Technology which increases durability when exposed to natural light, and a curve-hugging brush for easy & precise application. Protects Vinylux Nail Polish from scratching, denting, chipping and dulling.
SHOP Vinylux Weekly Top Coat $22.50
CND Scrubfresh Nail Surface Cleanser
CND Scrubfresh removes oil, moisture and contaminants from the nail surface. This is an essential nail prep product that really improves the way nail polish adheres to the nail and prolongs the wearability of nail polish. Scrubfresh temporarily dehydrates the nail, and you will see how much easier it is to apply nail polish on nails that have been prepared with Scrubfresh.
Shop CND Scrubfresh $19.50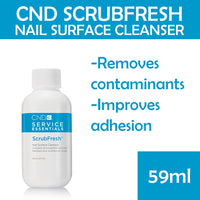 CND Creative Play Nail Polish - with 10 different textures and 85+ colours. Perfect for every occasion.
Smooth, highly pigmented, gorgeous and sensual shades and textures of nail polish to brighten your day. Perfect for creating your own style and so easy to use for feature nails or nail art. You can layer the glitters over the top of the plains to create feature nails, or just enjoy using different textures such as the transformers or shimmers. 85+ colours and 10 exciting textured finishes. Choose from cream, metallic, shimmer, satin, pearl, multi-colour glitter, metallic glitter, holographic glitter, and transformer. When it comes to being beautifully creative with your nails, decorating your toes, or painting children's nails, these nail polishes are top quality and lots of fun.
All CND Nail Polishes are 7-free, 100% cruelty-free and vegan-friendly.
Image is "Cherry Glo Round" in Creative Play Nail Polish
Shop Creative Play Nail Polishes from $9.20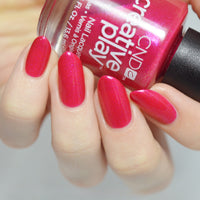 Professional Skincare Especially for Hands & Feet - CND PRO SKINCARE
A complete line of professional, vegan, spa products for healthier-looking skin on your hands and feet, and perfect for use during your manicure or pedicure. Enriched with prebiotic complex and formulated with natural origin ingredients to deep-cleanse, exfoliate, soften and nourish all skin types.
The products you will find in this brand new gorgeous range of pampering products are :
CND Pro Skincare Exfoliating Scrub for HANDS
CND Pro Skincare Exfoliating Activator for HANDS
CND Pro Skincare Spa Mineral Bath for FEET
CND Pro Skincare Exfoliating Sea Salt Scrub for FEET
CND Pro Skincare Hydrating Lotion for HANDS & FEET
CND Pro Skincare Intensive Hydration Treatment for HANDS & FEET
Shop CND Pro Skincare Now - From $32.50
Fresh, clean, botanical CND Scentsations Hand & Body WASHES & LOTIONS - the perfect gift
CND have created hydrating Scentsations Hand Washes & Hand & Body Lotions, delicately scented with a blend of fresh fruit, flowers & herb fragrances that are uplifting to your senses. Use the Washes in the Shower or Bath, and enjoy all-over moisturising with the fresh-scented Lotions. Scentsations soothe dry skin, condition and moisturise. Enriched with Vitamin A & E vitamin complex for healthy and glowing skin.
Lotions: - Lavender & Jojoba; Mango & Coconut; Citrus & Green Tea; Tangerine & Lemongrass; Black Cherry & Nutmeg,
Washes: Mango & Coconut; Citrus & Green Tea; Rose & Peach; Strawberry & Prosecco; Jasmine & Cedarwood
Lotion 245ml Pump bottle $30.50
Lotion 976ml Pump Bottle $82.50
Washes 390ml Pump Bottle $32.50
Shop Scentsations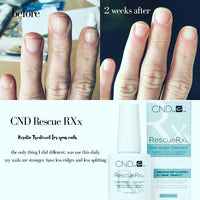 Amazing Nail Repair Serum - see improvement in 7 days with CND Rescue Rxx Daily Keratin Treatment
CND Rescue Rxx is a highly effective, revolutionary, nail repair serum which repairs and restores damaged and weakened natural nails. The perfect solution for those who suffer from fragile, brittle or splitting nails. With daily use, peeling and white spots are dramatically reduced, and nails are markedly improved, restored and stronger.

Rescue Rxx contains a daily Keratin Protein treatment and conditioning Jojoba Seed and Sweet Almond Oils. It nourishes and soothes the damaged nails and moisturises the skin around the nail plate. The main component of Rescue Rxx, solubilised Keratin Protein, bonds to the natural nail to help strengthen the nail plate. Oils soften and condition the nail and cuticle area.

Clinically proven results - after just 7 days use of CND Rescue Rxx (used twice a day) 80% said the condition of the nails were noticeably improved. After just 4 weeks (used twice a day) 73% saw a decrease in splitting and 80% saw a decrease in peeling.
SHOP RESCUE RXX 15mls $43.95
Shop Nail & Cuticle Care Products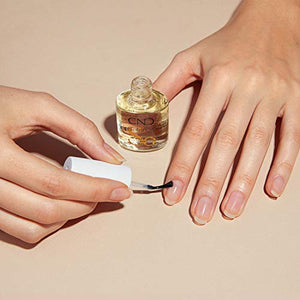 Solar Oil Daily Nail & Cuticle Care - Use every day for gorgeous nails
An award-winning nail and cuticle care oil infused with jojoba oil, sweet almond oil and vitamin E. Drives nutrients in to create stronger, healthier nails and hydrated cuticles. Use every day on both fingernails and toenails. Can be used on bare nails or over the top of nail polish. This delicately scented oil ensures your nails and cuticles are always nourished, new growth is supported, and your nail polish lasts longer.
Shop Solar OIl from $13.20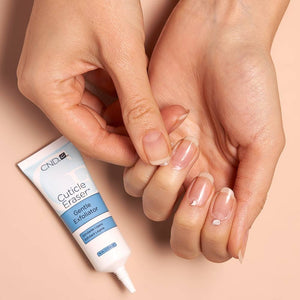 Cuticle Eraser - Gentle Exfoliator for cuticles
Cuticle Eraser is a gentle micro-exfoliant for cuticles you can use daily which keeps your cuticles looking well cared-for and nourished. Contains a conditioning blend of alpha-hydroxy acids (A.H.A.'s) to help prevent cuticle build-up. Moisturises and smooths nail plate and conditions surrounding skin. With regular use, nails are smooth, hydrated and conditioned. Helps prevent hangnails.
Shop Cuticle Eraser from $43.95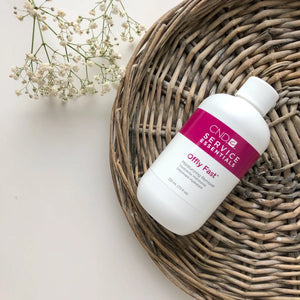 Super fast acting yet gentle on nails - Offly Fast Moisturising Nail Polish Remover
Offly Fast is a fast, very effective nail polish remover that also moisturises your nails as it removes your nail polish. It is formulated to reduce dehydration of nails and surrounding skin end eliminate the appearance of whiteness, due to the oil content in the formula.
Offly Fast can also be used to soak off Shellac gel polish, removable gels, liquid & powder, wraps, adhesives and tips from natural nails.
Shop Offly Fast from $10.95
Remove Gel Nails safely with NO nail damage with CND Offly Fast Removal Kit
Safely remove Shellac, any gel nails or any nail enhancements at home safely and easily. This kit has everything you need, plus full instructions. Enough to remove 20 nails. Safely removes CND SHELLAC brand 14+ day nail color at home in 10 - 15 minutes. Proper removal and care will ensure your nails stay healthy and beautiful.
Shop CND Offly Fast Removal & Care Kit $36.50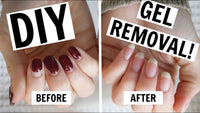 NAIL ART - HAVE FUN CREATING BEAUTIFUL NAILS WITH GLITTERS, RHINESTONES & FOILS
Nail Art - Glitter
Pretty up your manicure with nail art glitter - 14 colours to choose from. Simply sprinkle over your nail as soon as you have applied the second coat of nail polish colour while it is still wet. Wait till dry then lightly brush off excess with a soft brush and apply nail polish top coat to protect. $13.50
SHOP GLITTER all $13.50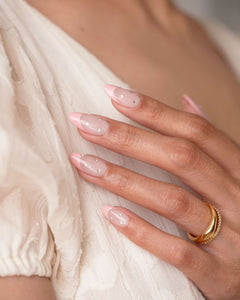 Nail Art - Rhinestones
Beautiful tiny gemstones to give a luxury look to your manicure - perfect for weddings too. 17 different colours to choose from. Once your second coat of nail polish colour is dry, glue these tiny gems onto your nail with a dot of nail glue, then finish with top coat. $8.50 for 20
SHOP RHINESTONES $8.50 for 20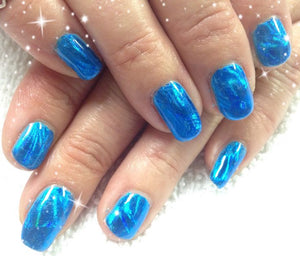 Nail Art - Foils
Using these transfer foils can add just the right amount of GLAM; and they are easy to apply too. These beautiful foils add colour and texture, and you can create a unique look to your manicure. 50+ colour options. Nail foils measure 2.5cm x 150cm and will complete 140 natural nail coverings. $10.50
SHOP NAIL FOILS $10.50 for 2.5m roll