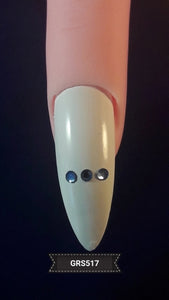 Rhinestones are delicate diamond-like jewels which you glue on to your nails to add a touch of luxury to your favourite manicure or pedicure?
With this range of sparkling Rhinestones, you can add just the right amount of GLAM; and they are easy to apply too.
There are several colour options, so choosing your perfect shade will be easy. Rhinestones can provide instantly eye-catching results that will add the finishing touch to any manicure. The rhinestones are approximately 1.5mm so they are delicate and tiny, perfect for nails.
Directions for Application:
Paint your nails first. Apply base coat, two coats of colour then top coat and wait until completely dry.
If you are using CND Vinylux Nail Polish, that doesn't require a base coat, so apply your two colour layers. Apply top coat and wait until completely dry.
Carefully place a small spot of nail glue on the nail where you wish to place each rhinestone. Pick up each rhinestone with a nail care stick dipped in candle wax for ease of handling, and place on nail. Allow time for glue to dry.
If desired, follow with a second top coat.
CND Air Dry Top Coat is specially suitable over nail art such as rhinestones.