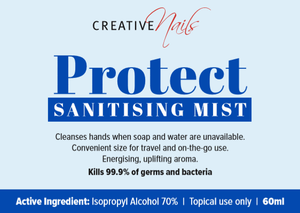 Creative Nails Hand Sanitiser Spray has essential oils added, creating a gentle fragrance, and it moisturises as it cleans!
Creative Nails have created an alcohol-based hand sanitiser, infused with sweet-almond oil and essential oils to create an effective non-drying hand sanitiser. All essential oils are bactericidal and antiseptic, for this formula they have chosen oils that are anti-fungal and anti-viral as well.
Made with pharmaceutical grade Isoprophyl alcohol this fragrant Hand Sanitiser Spray purifies hands by eliminating 99.9% bacteria on hands.
 Use as required – can also be used on surfaces to clean and freshen.