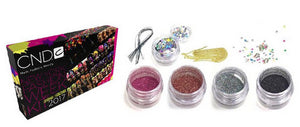 For Nail Art Lovers – here is a quality kit containing many different materials to enhance your nails in Fashion Week style and create beautiful manicures or pedicures. The kit contains the following:
Gold crown x 5
Copper Glitter 2g
New Square Studs (3mm)
Gold Chain (61cm)
Holographic Tinsel (20 Strands)
Black Holo Glitter (2g)
Silver Holo Glitter (2g)
Holo Squares (2g)
Fuchsia Holo Glitter (2g)
You can be as creative and imaginative as you wish with this kit and make all your own rules.
As a suggestion, you could apply your nail polish base coat to all your nails, then your two polish colour coats. Apply clear top coat to one nail at a time sprinkling glitter over the top coat before it dries. Put your hand over a tissue to catch any glitter spills. Do one nail at a time – sprinkle the glitter over and press down lightly on each nail and then tidy up sides of each nail with a small brush.
Holo squares, gold crowns, gold chain & studs could be glued with nail glue on top of your second polish colour coat once it's dry. Press down and hold for a couple of seconds or until attached. Then apply your clear top coat over top of decorated nail. Alternatively you can glue them on top of your top coat.