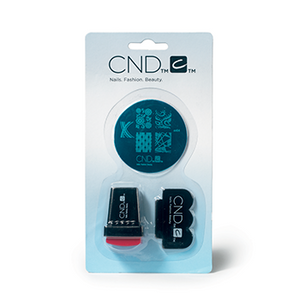 CND Nail Stamping Kit allows you to create many different looks for your nails in your favourite colours. The kit contains a set of plates, a scraper and a stamper.
Choose two different colours of nail polish ? one for the under coat and one for the stamping on top. High contrast is best ? for example a light base can look good with a darker colour stamped on top. Or a dark colour under with a light colour stamped on top.
Paint your nails with 2 color coats of the nail polish you have chosen to be the under coat (base coat first if required - CND Vinylux Color Polish does not require any base coat). Wait till dry.
On your preferred stamp plate, apply a layer of the second nail polish and scrape over to remove excess. Position stamper above the centre of the plate and then roll stamper over the image to pick up the nail polish image. Apply evenly to nails. Wait till dry then apply clear top coat over the images to protect and seal. Where necessary, clean up the skin around each nail with a small brush or cotton tip and nail polish remover.
There are many YouTube videos available online which offer tuition on nail stamping and inspiring ideas.