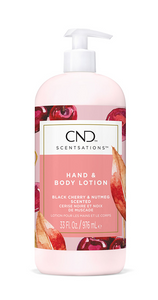 Skin loves to soak up Scentsations.
Award-winning CND Scentsations hand and body lotion delivers luxurious hydration to thirsty skin. This soothing moisture-rich lotion, infused with blends of delicately-scented natural fragrances, will help you to relax and unwind, creating that pampering Spa experience every day. Scentsations is absorbed immediately as it is enriched with Vitamin A and Vitamin E each giving a synergistic vitamin complex for healthy skin. Aloe Leaf moisturises, soothes and conditions with a soft, velvety feel. Scentsations Lotion restores essential moisture and leaves skin feeling silky smooth.
The harmonious blends of long-lasting, fresh clean fragrances create a sense of fun and cater to any mood. The unique blend of aromas uplifts the senses and soothes the soul. Smooth into skin immediately after cleansing for deep-hydrating effects.
Scentsations Lotions are available in the following fun seasonal fragrances:
Tangerine & Lemongrass
Strawberry & Prosecco -Limited Edition
Black Cherry & Nutmeg
Mango & Coconut
Citrus & Green Tea
Lavender & Jojoba
All available in 245ml Pump Bottle